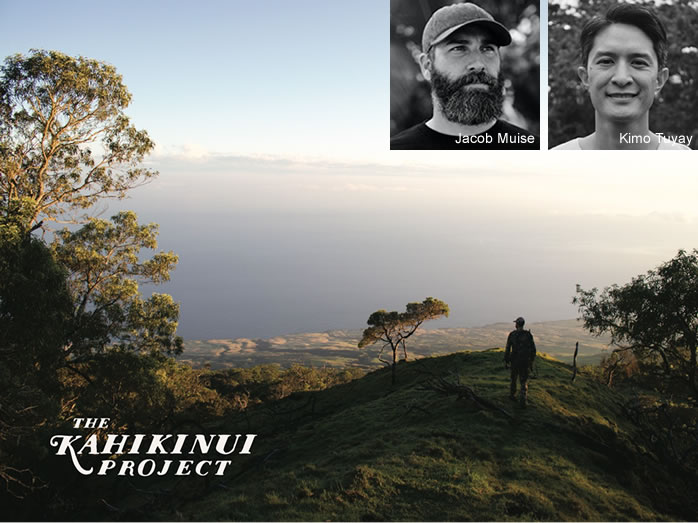 Shidler alumni and social entrepreneurs Jacob Muise (BBA 2005) and Kimo Tuyay (BBA 2004), along with their business partner Min Tuyay (Kimo's wife), are helping to make an impact with local reforestation efforts on Maui.
In an effort to battle the over-population of invasive axis deer on Maui, Jacob, Kimo and Min launched Maui Nui Venison in 2015. The company markets, sells and distributes wild-harvested USDA venison from Hawai'i. Their products include jerky and fresh-chilled or frozen cuts which are available at Tamura's Fine Wine & Liquors and Forage Hawaii on O'ahu.
Maui Nui Venison has partnered with The Kahikinui Project in an unprecedented endeavor to humanely harvest over 2,000 invasive animals from Maui's forests. This would generate over 500,000 pounds of healthy protein that would otherwise need to be disposed of by the State of Hawai'i. Project organizers plan to distribute the harvested meats to the Kahikinui community, DHHL households and local food banks, as well as plant thousands of native trees in the areas devastated by invasive animals.
The Kahikinui Project recently launched a Kickstarter campaign to raise funds to support the cause. The backers of the project will receive USDA wild beef jerky from Maui and enable the donation of jerky to the local food bank. "If you are interested, please help by backing the project through the Kickstarter," said Kimo Tuyay. "You can also help support us by posting our efforts to your social media or emailing friends a link to the project website and Kickstarter website. The Kahikinui Project campaign ends on April 9, 2018. Any support is much appreciated!"
In addition to their roles at Maui Nui Venison, Jacob is the owner of KIA Hawaii, a company that specializes in the planning, detection, assessment, capture, removal and certification of ungulate or small mammal populations utilizing Forward Looking Infrared (FLIR) technology. Kimo works as a field sales consultant for Henry Schein Dental. Along with a BBA from Shidler, he holds an MBA from Hawaii Pacific University. Both Jacob and Kimo were both members of the UH Men's Volleyball Team (2001-2004).
Links: