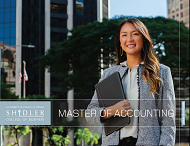 The Master of Accounting (MAcc) program is a 30-credit hour program (10 courses) providing advanced education in taxation, financial accounting, and auditing necessary for students to pursue leading positions in public practice, business, government, and related fields. The MAcc is designed to provide the skills needed to build a successful career in the multifaceted, dynamic practice of accounting. Completion of the MAcc fulfills the 150 credit hour requirement for becoming a CPA. In addition, internships, career development services, and other opportunities further enrich and support students' graduate accounting studies. Nationwide, accounting firms have significantly increased the hiring of MAcc graduates and decreased the hiring of bachelor's graduates in their selection process.
Admission to the MAcc can occur through application to the traditional MAcc or the 3/2 MAcc program. MAcc classes are primarily taught on weekday evenings (Monday through Thursday), allowing students to work or participate in internships. The MAcc curriculum includes 17 hours of core courses and 13 hours of elective courses, with suggested concentrations in Data Analytics, Taxation, or Financial Reporting/Auditing.
MAcc Degree Requirements
The MAcc is a 30-credit hour program requiring 17 hours for the core curriculum and 13 hours of electives.
Students must complete seven hours of accounting electives, six of which may be in a concentration (Tax, Financial Reporting/Auditing, or Data Analytics). Elective hours supplement the core classes with detailed study into a particular area of accounting and provide some individual focus. However, since the MAcc requires 18 hours of graduate courses (600 level or above) and requires 8 hours of 400-level courses in the core curriculum, generally, only four hours of electives from 400-level courses can qualify. Up to 6 hours of electives may be taken from other departments with approval.
UH Manoa Advantages For A MAcc
Low Tuition / Great Value
See webpages on Tuition & Fees and About SOA.
The Shidler College of Business is the only AACSB International accredited institution in Hawai'i that offers a Master of Accounting program.
Excellent Career Placement
After passing the CPA examination, SOA alumni often choose a variety of positions in addition to practicing as a CPA. For example, over 40% of our alumni who are active members of the Hawai'i Society of CPAs are not practicing CPAs, but are working in business and industry. In a survey of graduates, the SOA found that about 84% of the responding graduates are working in accounting-related positions.
The Shidler Office of Internships and Career Development works diligently to establish, maintain and strengthen business and alumni connections to link recruiters and students. Below is a sample of companies that have hosted MAcc interns or have hired MAcc graduates:
MAcc (Traditional Program)
The MAcc program admits students in both the fall and spring semesters and may be completed as part-time or full-time students. Typically, a full-time student who has completed all the undergraduate deficiencies can complete the program in 12-18 months, while non-accounting majors usually take two years to complete the program. The MAcc program offers the following benefits and opportunities:
Prepare for the Certified Public Accountant (CPA) exam and earn a master's degree
Meet the 150 credit-hour CPA licensing requirement
Access to internationally recognized faculty
Strong alumni network – about half of the CPAs in the State of Hawai'i are Shidler College alumni, and many more hold leading positions on the U.S. mainland and worldwide.
3/2 MAcc (BBA + MAcc)
The 3/2 MAcc program is designed for current undergraduate students enrolled at the Shidler College of Business. You are eligible to apply if you:
Currently have at least one semester remaining prior to graduation from the Shidler College of Business with a BBA,
Have taken at least two upper-division accounting courses, and
Have a 3.4 overall or 3.4 accounting GPA.
No automatic admission is granted if meeting these requirements; the SOA admission committee determines the final admission decision.
The 3/2 MAcc offers the following benefits:
GMAT is not required for admission.
Pay the lower undergraduate tuition rates for up to six credits towards the MAcc degree.
Gain advanced admission and smoothly transition into a graduate program while finishing your undergraduate degree.
More efficiently complete the MAcc and meet the 150 credit-hour CPA licensing requirement.
Classes are offered at night, so students can work during the day while enrolled in the MAcc.
MAcc Admission Guidelines
GPA 3.0 (3.4 for 3/2 MAcc)
GMAT was taken within the last five years and at a GMAT score of at least 500 (GMAT may be waived for students with an undergraduate GPA of 3.5 or higher)
TOEFL or IELTS (International applicants)
Statement of Objectives
To apply for the MAcc, the candidate must have taken introductory accounting courses, such as:
ACC 200 — Introduction to Accounting I
ACC 210 — Introduction to Accounting II
Application Deadlines
For Fall admission, the deadline for scholarship consideration and international applicants is March 1st. The regular review deadline for all MAcc applicants is May 1st.
For Spring admission, the regular review deadline for all MAcc applicants is November 1st.
Foundational Courses
Students who do not hold an undergraduate degree in accounting must complete the following foundational courses while enrolled in the MAcc program:
Students with an accounting degree must complete any missing courses prior to graduation from the MAcc program.
If you have any questions regarding the information above, please contact Marc Endrigat at endrigat@hawaii.edu.
For more information, see the webpage on How to Apply.