The Shidler Freshman Direct Admit Program (DAP) is designed for high-achieving incoming first-year students who wish to enter the UH Shidler College of Business and get a head start on their Business curriculum.
Who is this program for?
Outstanding high-school seniors entering UH Mānoa in the fall are invited upon acceptance to the university. Selective admission for the Shidler Freshman Direct Admit Program is highly competitive and based on students' Grade Point Average (GPA) and SAT or ACT scores (As a test optional school since the 2021-2022 academic year, students who might qualify but who have not submitted test scores will be contacted to submit a personal statement to help us determine suitability for the program).
How do I apply for DAP?
On your UH Mānoa application, simply designate "Exploratory Business" (or any specific business major) as your first choice major, and you will automatically be considered for the Shidler DAP.
After you have been accepted to the University of Hawai'i at Mānoa, your application will be reviewed by our selection committee. If you have not submitted test scores, you will be given the opportunity to complete a personal statement (Completion of the personal statement is required for further evaluation of your application). An email requesting the essay would be sent to you.
We recommend that you complete your personal statement by March 1st.
DAP four-year curriculum
DAP students are introduced to the Shidler College of Business curriculum beginning in their first year. Students are grouped in two business-related courses reserved strictly for the DAP cohort of that year. A copy of the four-year plan may be found here.
AP and IB credits are awarded to students who meet the minimum UH Mānoa criteria. A list of scores needed to obtain AP and IB credit may be found here:
UH Mānoa and Shidler Scholarships
Upon enrollment, Shidler DAP students will be eligible for available scholarships.There are also many UH Mānoa and Shidler College of Business scholarships available through the UH STAR System online at www.star.hawaii.edu/scholarships. The STAR System helps students find scholarships they are eligible for and facilitates the online application process.
Please note the deadlines if you want to be considered for these scholarship:
New Warrior Scholarship applications are due early (January 30 in 2023; AND your UH Mānoa application needed to have been completed by December 15 of the previous year), and
STAR scholarship applications tend to open annually in mid-November and are due in mid-February.
Why be a Shidler DAP student?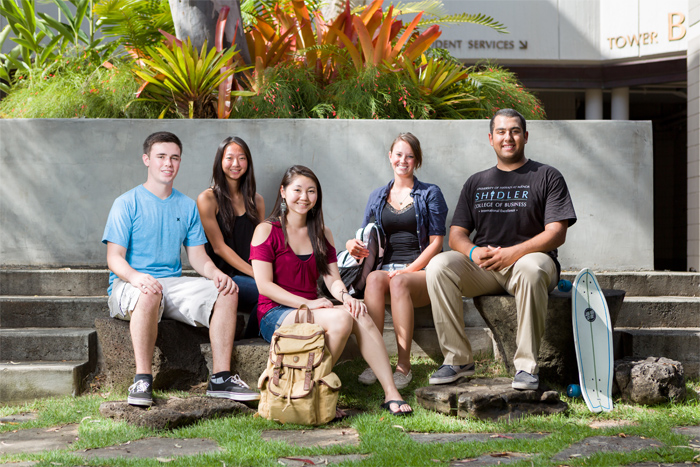 Enter Shidler from the very first year, rather than wait until completing 60 credit hours of college-level work (junior standing)
Shidler DAP students will be eligible to receive a scholarship upon enrollment
Get involved early with the Shidler network—attend lectures, meet guest speakers, and attend some of the best events on campus
Join student clubs and organizations, such as the American Marketing Association, Accounting Club, etc.
Gain early access to advisors in the Shidler Office of Student Academic Services and get started on your future career path
Join a cohort of the best students on the UH Mānoa campus
Take the Next Step
Contact us to learn more.
Office: Shidler A202
Email: Penny Ching ( pennlylee@hawaii.edu )
Phone: (808) 956-4869
 
Zoom or in-person appointments are available, please email for more information.