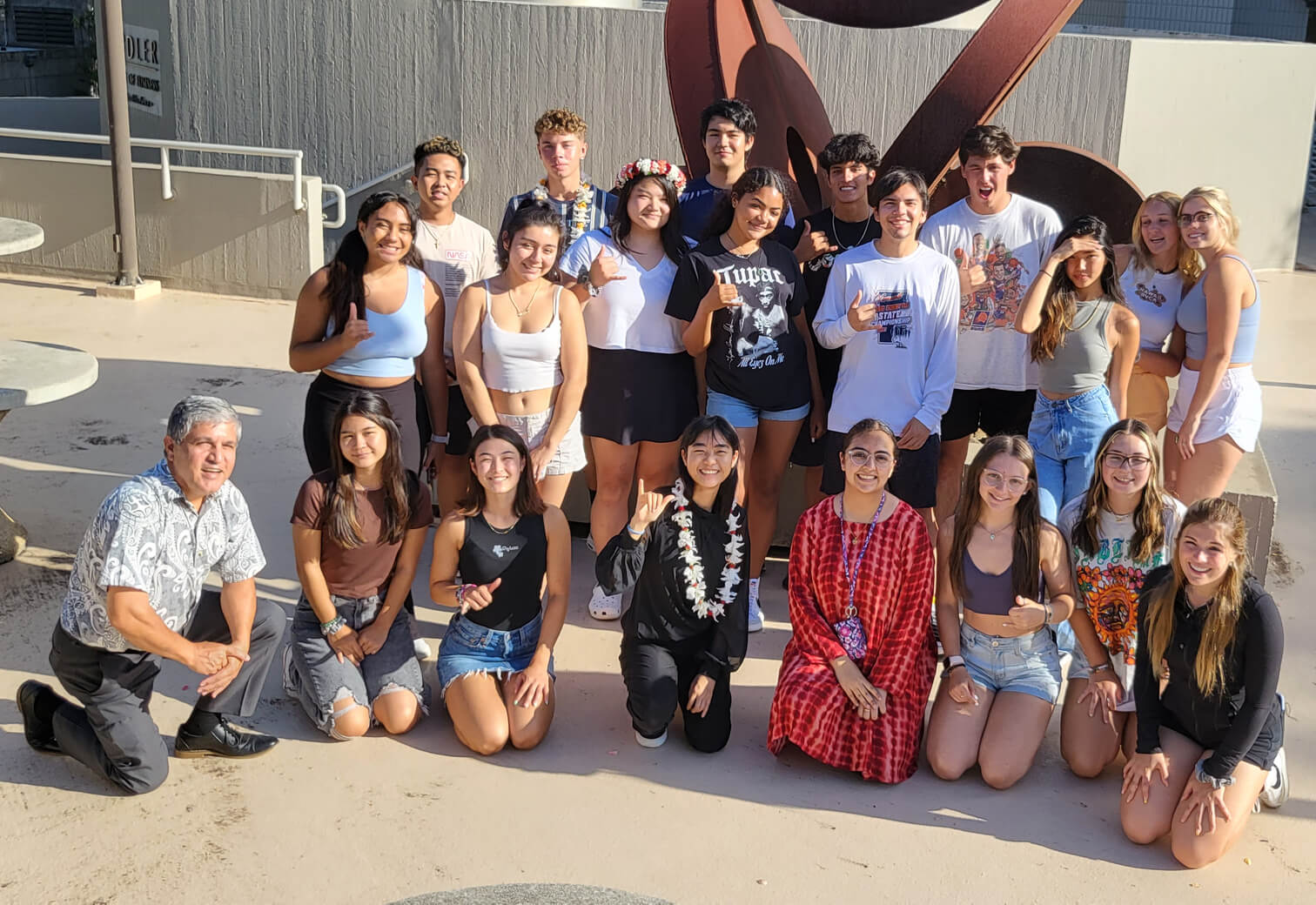 Program Overview
Humanities Integrated Program with Social Sciences (HIPSS), is a year-long program offered at the Shidler College of Business for pre-business and Shidler Direct Admit (DAP) students. As a member of this 40 student cohort, students will take the required pre-business courses, as well as develop lifelong relationships with both their peers and faculty.
Who Should Join this Program?
HIPSS is designed for freshmen pre-business students and the Direct Admit (DAP) students, who intend to obtain their business degree from Shidler College.
What is HIPSS & What Will I Learn?
Through this program, you will develop the necessary skills to prepare you for the future workforce. Expect to become a better oral and written communicator, develop math and leadership skills, and work in diverse groups, while being taught by faculty who are among the best in Hawai'i. Faculty adjust the curriculum of pre-business courses to stress the importance of humanities and social science topics as an integrated subject. 
You will be a part of a cohort and exposed to a variety of topics that will equip you to relate to and understand your classmates, fellow citizens, and future colleagues. These include developing strong communication, leadership, and decision-making skills; assessing changes in technology, risk assessment, and finding opportunities; learning to think through a societal lens and familiarizing yourself with the laws that apply to business topics.
Where is the Program?
This is an in-person program held within the Shidler College.
When is the Program?
Why Should I Join HIPSS?
1. CONSISTENT SCHEDULE AND LOCATION
The required pre-business courses are classes that business students would need to satisfy regardless, so why not take these classes in an easy-to-follow format, with the same cohort members and faculty all year long? The HIPSS program puts students on a fast-track to getting their business degree without the stress of planning their schedule and balancing which classes to take. HIPSS classes will be offered from 1-5PM every Monday, Wednesday, and Friday in the same location with your fellow cohort members. There is no need to run from one end of campus to the other or search for classrooms! 
2. DEVELOP LIFELONG FRIENDSHIPS
Having a few people to start with at the beginning of the academic year makes the transition to college life a lot easier! While your fellow cohort members will be with you all year long, you will still be able to take courses of your choice each semester to branch out and meet other students too! 
3. DEDICATED FACULTY
The HIPSS faculty are committed to offering novel, engaging spins on traditional coursework through integrated games, class discussions, simulations, and case studies. 
4. DEVELOP LEADERSHIP SKILLS and SET YOURSELF UP FOR FUTURE SUCCESS!
Students will be prepped for the future, including opportunities to broaden their workforce development and the option for study abroad.
Once completing the HIPSS program, you will receive a detailed course/module transcript proving that you are apart from other graduates because you will possess the qualities employers are seeking. Start your career off with a strong foundation and the confidence to succeed in an ever-changing world.
5. NO EXTRA COST!
There are no additional fees associated with joining the HIPSS cohort! All fees are included in your Mānoa tuition. 
How Do I Apply?
We have extended the application deadline to accommodate the extension in the admissions deadline. Applications for Fall 2023 will now be due on May 5th, 2023. Selected students will be requested to complete an interview upon review of their application. Acceptances will be notified within two weeks of their interview. 
APPLY HERE: https://go.hawaii.edu/c4k 
For more information or questions, please contact hipss@hawaii.edu